Major Patch v2008 - Speedrun Features, Pets, NPC vs. NPC, Multiple Server Support & Tons of Enhancements
---
Greetings, Itch.io! This was a major patch for the Mirage team (of 2). For a while, players have been waiting for the announcement of the engine to support pets & NPC vs. NPC gameplay. This update added the framework to the game, which will take a few months to fully integrate into the game. There are many bugs to squash as a result of this major enhancement to the custom engine.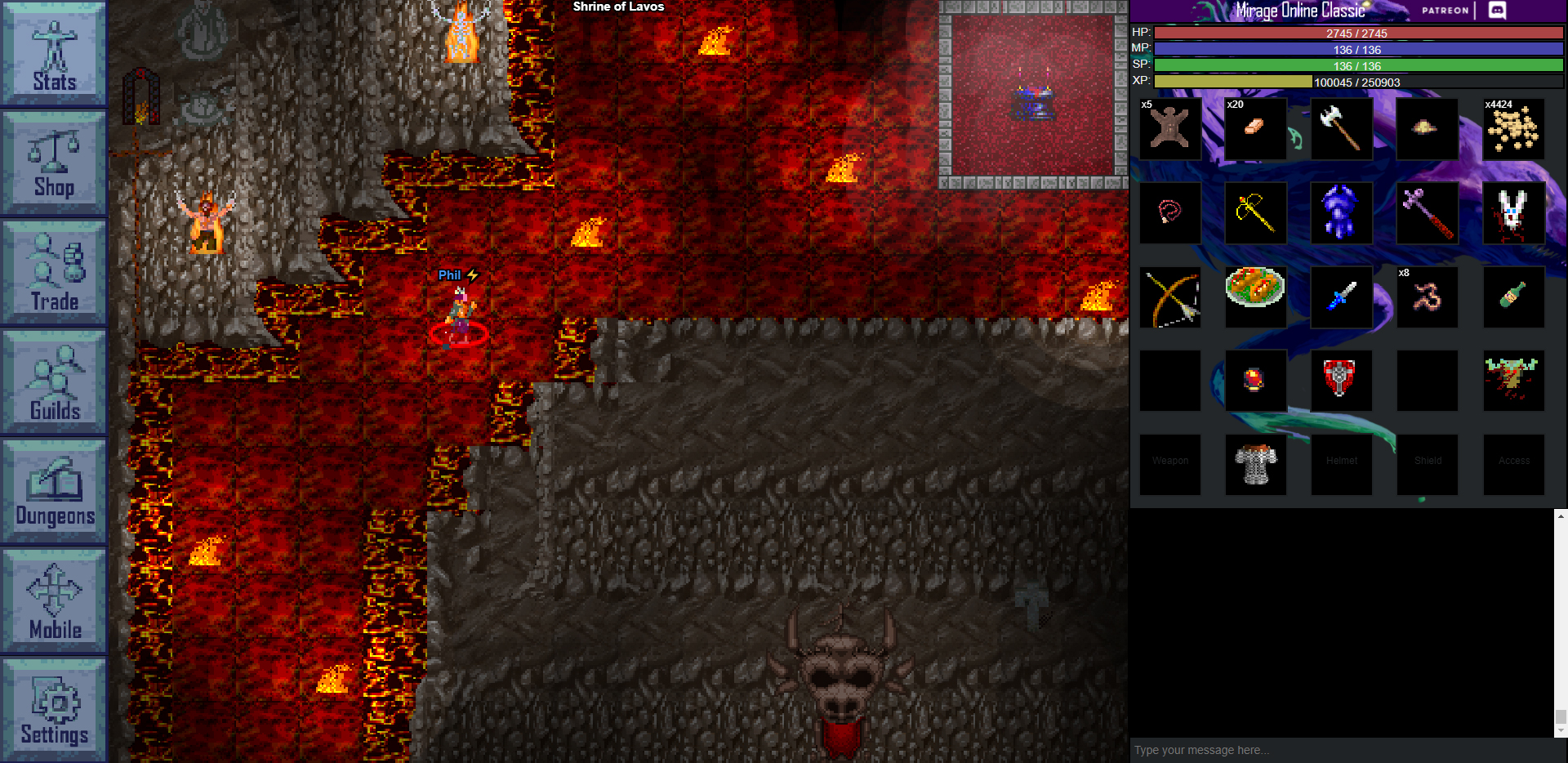 Also, with the increasing love of speedrunning, we believe our game's simplicity lends itself well to that type of gameplay. Instead of depending on external software to track, we've implemented a timer system to track how fast players defeat our dungeons. We look forward to the players completing months of work in seconds! Bring it on!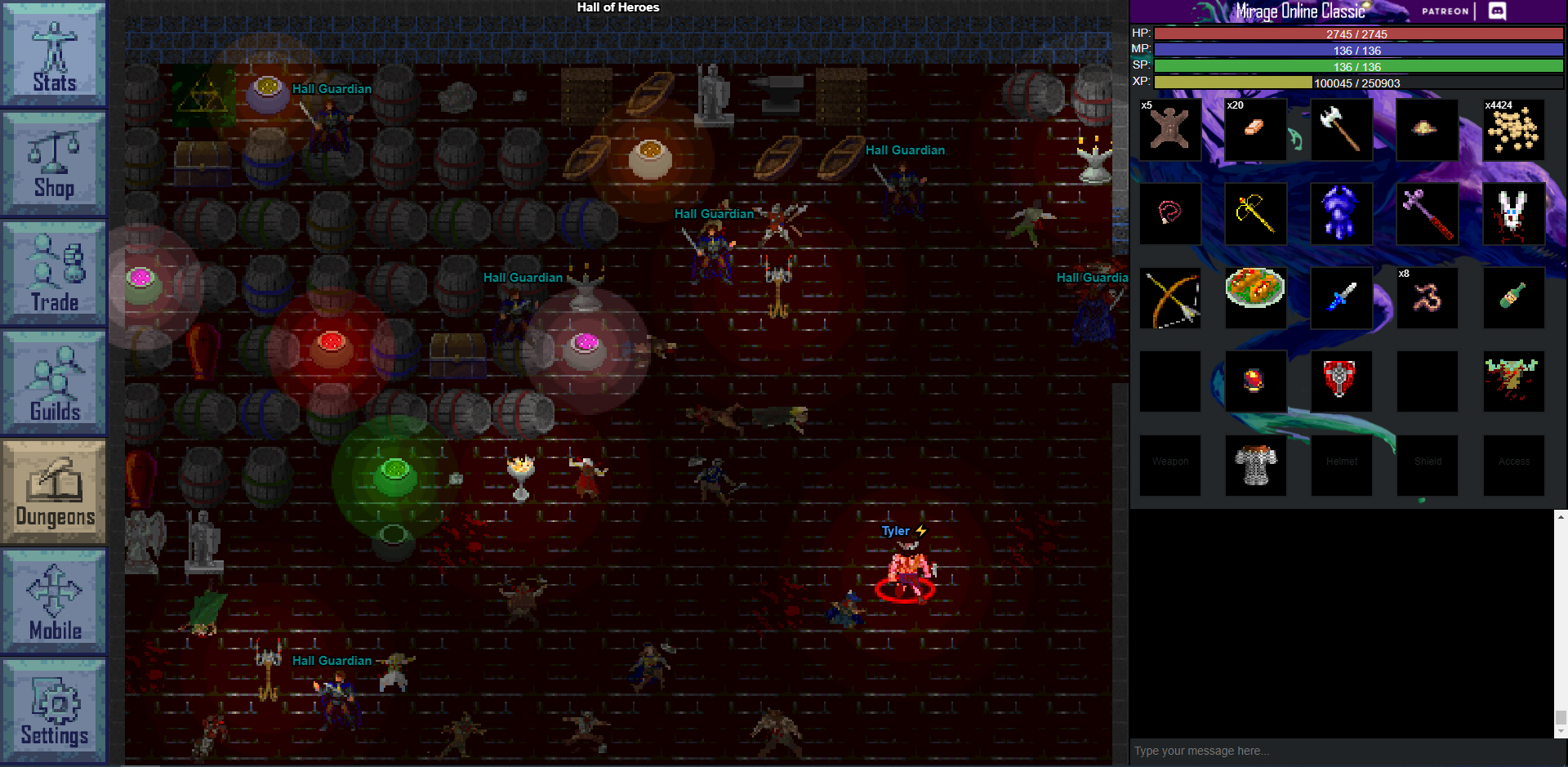 Beyond that, we've really been pushing to make the game look "prettier". We've enhanced many aspects of the game to make it easier on the eyes.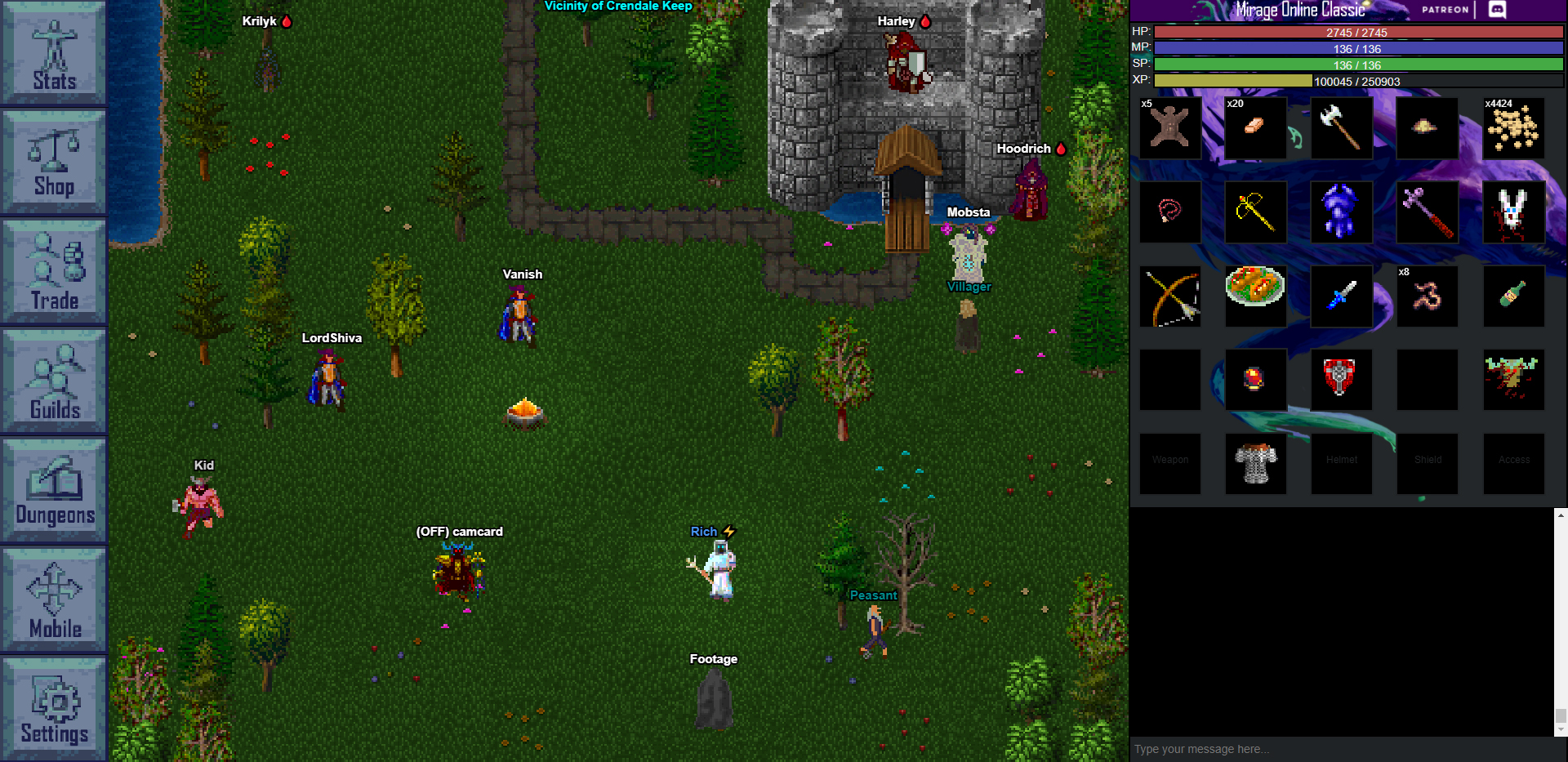 Discord integration for global chat messages via #ingame-global channel.

Patreon supporters can send messages through #ingame-global and will appear in game.

Added additional script functions for accessing map properties.

Added ability to warp NPCs from one map to another.

Pet NPC type added that follows player on map and warps with its player.

Fixed bug where sometimes NPCs would remember a player after an extended period of time.

Fixed bug where a player could warp to a safe map despite being challenged in pvp.

Killer information is now passed to script events when a player or npc is killed by another player or npc.

Made player/npc collision checks more efficient in both client and server.

Added offset x/y for map lights to give more flexibility with placement.

Added map item and inventory item amount abbreviations for items like gold.

Guilds are now sorted alphabetically and members by rank.

Amount abbreviations now round down instead of up.

Send button replaced with Save to be more user friendly.

Added option in settings to filter bad words from chat and is enabled by default.

Player/account/guild data can now be deleted if max data reached.

Boss maps now do not include pet NPCs when opening doors.

Fixed warp back issue when PvPing in guild halls.

Added a visual skills window using a button from the stats menu.

Added uid to script executions and timers.

Fixed crash issue when Patreon REST API goes down.

Fixed bug that allowed players to be added twice to a map.

Removed auto map linking as it caused more problems than it solved.

Migrated to a new database format to greatly increase query speed.

Game is now capable of being horizontally scaled if popularity grows large enough.

Added inspection routine to identify maps with item spawn errors.

Popups now support parsing basic markdown and colors similar to chat.

Dungeon speedruns are now possible.
Files
Windows x64 - Mirage Online Classic Client.zip
79 MB
Aug 09, 2021
Linux x64 - Mirage Online Classic Client.zip
75 MB
Aug 09, 2021
Windows x86 - Mirage Online Classic Client.zip
74 MB
Aug 09, 2021
Get Mirage Online Classic - Free Browser MMO